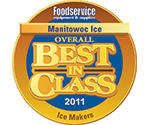 The annual FE&S magazine (Foodservice Equipment & Supplies©) Best in Class survey results are in and Manitowoc Ice has again won the top place of Overall Best in Class for the Ice Maker category. Foodservice dealers, distributors, consultants and operators are surveyed each year and asked questions regarding customer service, product durability, brand recognition, and manufacturer integrity.
According to the magazine, this year's Best in Class winners have each done an exceptional job of demonstrating the reliability and adaptability of their products in the foodservice marketplace.
Throughout the ten years that FE&S has championed the Best in Class Survey Manitowoc Ice has never given up the top spot of Overall Best in Class.
"We are proud of our Best in Class recognition and remain committed to developing products that are dependable, energy and water efficient, and designed to meet the future needs of tomorrow's fast-paced commercial kitchens," said Mike Kachmer, president of Manitowoc Foodservice.