The Manitowoc Ice team is committed to providing products that not only satisfy customer needs but also add value to the equipment investment by reducing costs, increasing energy efficiency, and providing innovative features that are unmatched within the industry. 
OVERALL BEST-IN-CLASS 17x Champion since inception!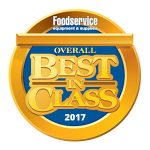 Throughout the seventeen (17) years that FE&S has championed the Best in Class Survey, Manitowoc has never given up the top spot of Overall Best in Class in their category.

Manitowoc Beverage Equipment includes the Servend, Multiplex and Flomatic brands – serving all your dispensing needs.
The Servend® brand commitment to precision manufacturing and quality selection has made our ice and beverage dispensing equipment a customer favorite.
Multiplex® is the world's leading manufacturer of high capacity beverage dispensing systems for soda and beer applications that cannot be met by conventional dispensing equipment.
Flomatic® beverage valves are an intregal part of our dispensing units for improved drink quality and presentation.

Quality Ice Machines by Manitowoc, constructed to be durable and reliable with all the basic features you need.